Toyota unveils customizable self-driving concept vehicles at CES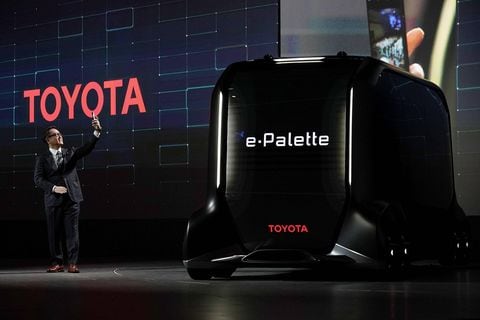 President of Toyota Motor Corporation Akio Toyoda takes a selfie after introducing the e-Palette Concept Vehicle, a fully autonomous, battery-electric vehicle on Jan. 8, 2018 in Las Vegas, Nev.  

Toyota Motor Corp announced on Monday a self-driving electric concept vehicle that it will tailor for companies to use for tasks like ride hailing and package delivery, underscoring how auto makers are no longer simply building cars but also providing services to go with them. 

The world's second-biggest car maker said it plans to begin testing the e-Palette concept vehicle in various regions, including the United States, in the early 2020s. It will come in three sizes: a bus-sized vehicle, a shuttle and a small delivery vehicle sized to run on sidewalks.  

Toyota said at the CES global technology conference in Las Vegas that it will work with companies including Amazon.com Inc , Chinese ride-hailing company Didi Chuxing Technology Co, Pizza Hut, Mazda Motor Corp and Uber Technologies Inc to build the vehicle and its hardware and software support and develop connected mobility products.